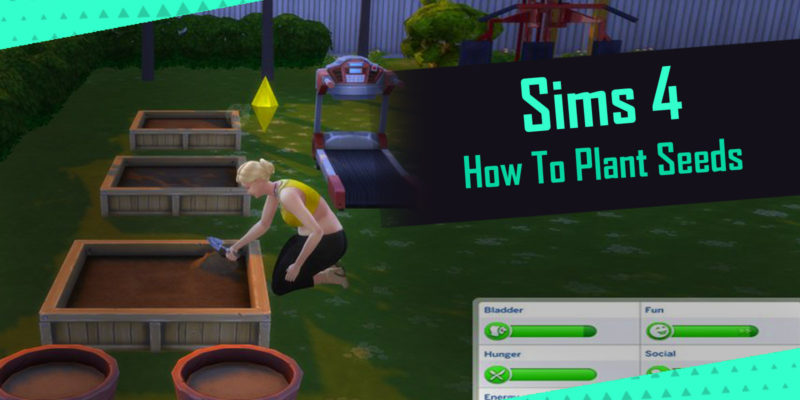 One of the most popular skills in The Sims 4 is gardening, and it's not hard to get started. At its most basic level, gardening in The Sims 4 is simply a matter of buying or finding seeds, planting, tending and harvesting, and players can add their favorite fruit and vegetable crops for their own use in The Sims 4, and can also sell them for a profit. This article aims to show players how to sow seeds in The Sims 4. Players need to have enough copies of The Sims 4 Standard Edition in the game to help sow seeds in The Sims.
How To Get Seeds
Sowing seeds and gardening is not only a great pastime for the Sims to enjoy a soothing hobby in The Sims 4, but it can also be used as a means to collect crops and produce them for profitable activities. If Sims lack seeds in their inventory they cannot plant. So, players first need to get some seeds. There are two ways to get seeds and start a garden, one is to buy them and the other is to find them, both of which players can choose on their own, depending on the advantages of each.
1. How to buy seeds
Seed packs can be purchased by interacting with garden planting boxes or pots, all of which can be purchased in build and buy mode. Once a player has purchased and placed a garden box or garden pot, the player will need to interact with it to get the "Buy Seeds" option. Next, the player must select the seed packet they wish to purchase and place an order. Once the seed pack is purchased, it will automatically appear in the Sims' inventory. Players will open their inventory and select the packet, then select "Open Seed Packet" and some random seeds will appear in their Sims' inventory.
2. How to find seeds
Seeds can be found anywhere in the world. Over time, some places will grow native plants and keep producing them, and others will have community gardens that each Sim can visit and pick some vegetables and fruits. If the player wants to collect some wild seeds, the player simply needs to find a plant that can be harvested, walk up to it, and collect its produce. What is collected will then appear in the Sims' inventory, and each fruit, vegetable, herb or flower can be replanted and then turned into the plant the player wants.
How To Sow Seeds
Sowing seeds is the first step in gardening in The Sims 4. Players need to water and weed the plants so that they can ensure that they will grow into the desired flowers or crops. In addition players need to water and weed every day so that the plants will not die. Players can also improve their gardening skills so that their Sims can become more familiar with caring for plants. If handled properly, players can evolve these seeds to produce better quality products.
The above is a specific guide on how to sow seeds in The Sims 4. I hope players will check out 600pu.com for more guides to better experience the gameplay in The Sims 4.